Apple WWDC 2014 – OS X 10.10 Yosemite
Apple WWDC 2014 – OS X 10.10 Yosemite
The Apple Worldwide Developers Conference (WWDC), is a conference held annually in California by Apple Inc. The conference is used by Apple to showcase its new software and technologies for software developers. Attendees can participate in hands-on labs with Apple engineers, as well as in-depth sessions that cover a wide variety of topics. Until 2007, the number of attendees varied between 2,000 and 4,200; however, during WWDC 2007, Steve Jobs noted that there were more than 5,000 attendees. The WWDC events held from 2008 to 2015 were capped, and sold out at 5,000 attendees (5,200 including special attendees).
Watch the WWDC 2014 Conference :
The WWDC 2014 was held from June 2 to 6, 2014 in Moscone West.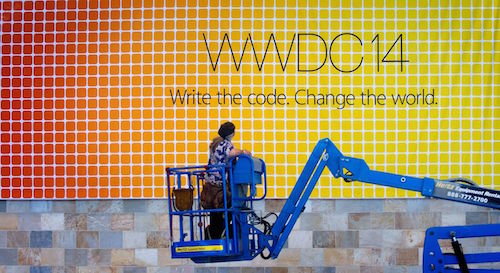 For the first time, the opportunity to purchase tickets was given at random to developers who were members of an Apple developer program at the time of the conference announcement, and who registered at Apple's developer web site. Apple also gave 200 free tickets to students as Students Scholarships. The keynote began on June 2 and Apple unveiled several new software items, including iOS 8—the largest update to iOS since the release of the App Store—and OS X Yosemite, which features a completely redesigned interface inspired by iOS. No new hardware was announced at WWDC 2014, but the new Swift programming language was announced, along with a surplus of developer kits and tools for iOS 8. Bastille performed at the Yerba Buena Gardens,
and attendees received a black windbreaker with the letters "WWDC" across the front and the number "14" stitched on the back, along with a US$25 iTunes gift card to commemorate the 25th anniversary of WWDC.